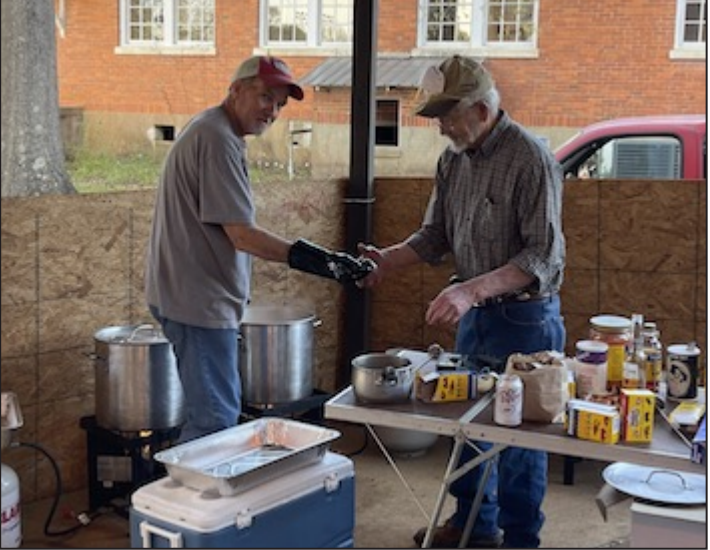 Saturday night, March 26,
witnessed the return of a
beloved Perry County tradition. Perry County Historical
Society's annual fundraiser,
the Low Country Boil, was a
welcome event after a week
of rain and thunderstorms.
The weather cooperated
with organizers all evening,
ensuring an enthusiastic
turnout as locals and guests
from out of town feasted on
shrimp, sausage, corn, and
potatoes prepared in the traditional South Carolina lowcountry fashion, as well as a
variety of homemade
desserts prepared by PCHS 
members.
The event is the Historical Society's largest
fundraiser of the year, and
this year's saw a massive
turnout of support in both attendees and sponsors.
The Historical Society
would like to thank the
sponsors of this year's Low
Country Boil: Alabama Ag
Credit, Clark Eiland, Harris
Utility, TekPak, Morrison
Tire, Blackbelt Hardware
and Outdoors, Blackbelt Insurors, Inc., Faunsdale Bar
and Grill Attorney Jefferson
K. Nail, 1848 Boutique,
Dottie Ollie (Greensboro),
The Cedars (Demopolis),
Faunsdale Cafe, Goods & 
Liquidations Estate Sales,
Steve Kirk, CPA (Greensboro), Marion Community
Bank, Marion Vet Clinic,
Moor e / Webb / Holmes
AirBnB, Community Foundation of Uniontown, FoodValu, The Red Barn, Seale,
Holmes, and Ryan, College
City Drug, Luna Woodworks, and West Alabama
Bank.