Easter is this Sunday! As always, a lot of people always reminisce about "The Road To Calvary" that used to be presented by The MOUNDVILLE United Methodist Church. It was written by Pastor Robert Hagood in 1948 and presented for many years at MOUNDVILLE Archaeological Mounds at 4:30 AM on Easter morning. Such great memories of this event.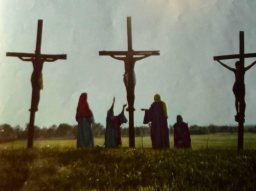 I received this pic several weeks ago from Brenda Beckham Fondren. I wonder if we will see this special Easter Bunny, this coming weekend. Pictured with the bunny (Tammy Fondren Cook), are left to right, the late Carol Mills, Kay Mills Fields, the late Carolyn Mills Godwin and Brenda. HAPPY EASTER!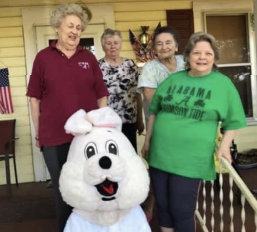 Congratulations to Garrett John Pearson of Moundville & Chloe Lucille Langston of Whittier, North Carolina, who were married at The Barn at Shady Grove in Double Springs, AL on April 3, 2022. The grooms parents are Kirk & Mindy Pearson. Kirk officiated the wedding. Grandparents, Kirk & Betty Pearson, Daniel & Linda Davis all of Moundville. The brides parents are, Aaron & Beckie Langston Grandparents, Tommy & Susie Ashe all of Whittier, NC. The couple will make their home in Akron, Al. 
SYMPATHY 
Please remember in prayer, the family of, Lillian Spencer Compton, Stella B. Spence, Anthony O'Neal Gray, Daniel Miller, William Thomas, Larry Ryan, who passed away recently! 
MEMORIAL 
In loving memory on their birthday: Apr. 14th…Quinton Spencer, Ludie Massengale 16th…Anita Thornton Nealeans 17th…Bobbie Jack Kelley Collins 18th…Walter Neil, Gary Smelley, Carolyn Marlar Nevin, Ozeen Ryan, Susie Davis 20th…Doyle Adams 
ANNIVERSARIES 
Happy Anniversary: Belated Apr. 10th… Brian & Shannon Kelley Fondren Apr. 17th…Ricky & Mandee Wyatt 18th…Albert & Sheleen Avery, Mike & Sandi Freeman, Dan & Jennifer Stokes 
BIRTHDAYS 
Celebrating this week: Apr. 14th…Ricky Wyatt, Che' Payne, April Dobbins, Jenna Corley 16th…Vickie Thrasher Kelley, Cindy Cook Doster 17th…Lana Kelley Crawford, Betty Ward, Monica Sluder Nichols, Emily Doran Pierce 18th…Piper Welshans, Ginny Morrison Reed, Amanda Beard, Natalie Mills 20th…Lane Frye, Anna Belle & Eli Hicks, Emily Davis, Buster Hartley, Blakeney Rice, Karen Seale, Charles Stewart 
That's all for this week, Rita